---
Fadna Ezy tea is the natural remedy for ladies having difficulties in their menstrual periods, which now comes in a handy packet for an affordable price.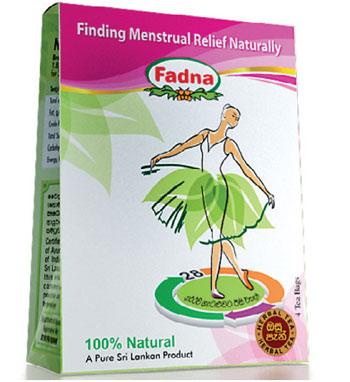 The product is solely for women and it is a tasty tea product which is formulated according to our ancient ayurvedic medicinal recipe.

Fadna Ezy tea is the only natural solution available in the market for all kinds of menstrual problems and is enriched with 100 percent natural herbal ingredients.

Fadna Ezy tea regulates the irregular movements of uterus muscles allowing better blood circulation to the cells providing optimum levels of oxygen (Menstrual cramps are commonly caused by contractions and convulsive movements of uterus muscles).

This ensures relief and relaxation at your day to day works. Continuous usage of Fadna Ezy tea regulates hormone imbalances within the system and provides a complete natural remedy for all kinds of menstrual problems.

Fadna Ezy tea is certified by the department of Ayurveda of the Ministry of indigenous medicine of Sri Lanka and confirms that Ezy tea can be consumed without a prescription and is suitable for general use. You can purchase the products from leading supermarkets and pharmacies.