---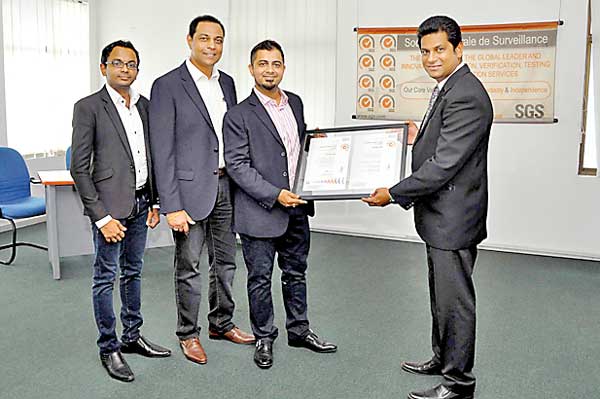 Chamika Wimalasiri, Business Manager - Certification and Business Enhancement, SGS Lanka presenting the certification to Saif Yusoof, Managing Director, EFL, Jagath Pathirane, CEO, EFL is also in the picture
Expo Freight's (EFL) Warehousing and Transportation clusters, recently received the prestigious International Management Systems certifications in three core areas from SGS United Kingdom and SGS Switzerland.

The certifications are namely ISO 9001:2008 - Quality Management Systems, ISO 14001:2004- Environmental Management Systems and OHSAS 18001:2007 - Occupational Health & Safety Management Systems. SGS is the world's largest organization in the field of inspection, verification and testing.

Commenting on the certifications, Jagath Pathirane, CEO – EFL said, "As one of the leading Logistics Service Providers in Sri Lanka we continue to raise the industry bar with our commitment to quality and customer satisfaction. We have a special interest in the areas of Quality, Environmental impact management and Health & Safety of our employees. These three areas are of the utmost importance in this constantly evolving industry scope which continues to become more and more complex and demanding every day. International certifications will help us streamline our processes and increase our performance in these key areas and focus on our journey based on a platform of sustainability."
ISO 9001:2008 - Quality Management Systems certification is based on eight quality management principles namely, Customer focus, Leadership, Involvement of people, Process approach, System approach, Continual improvement, Fact-based decision making, and Mutually beneficial supplier relationships.

ISO 14001:2004 Environmental Management Systems support Companies fulfill a range of essential criteria to become sustainable and environmental conscious entities. The main areas include managing environmental aspects effectively, improved compliance with environmental legislation, prevention of pollution, minimizing energy and resource usage reducing operating costs, continual improvement in environmental performance, reducing the risk of penalties and avoiding litigation, increased stakeholder confidence and opening new business opportunities with environmentally aware customer.

OHSAS 18001:2007 - Occupational Health & Safety Management Systemsensure maximum safety standards for employees by addressing several key areas. The key areas include, hazard identification, risk assessment and determining controls, legal and other requirements, objectives and OHS programmes, resources, roles, responsibility, accountability and authority, competence, training and awareness, communication, participation and consultation, operational control, emergency preparedness and response, performance measuring, monitoring and improvement.

Founded in 1878, SGS has expanded across the world, operating in 157 countries, with 335 subsidiaries, more than 1650 offices & laboratories and over 80,000 employees.

"Standardization of our processes and systems has been a key focus area within our strategy to achieve excellence. Continuous improvement & business process re-engineering will challenge what is considered and established as standard to foster innovation," added Saif Yusoof Managing Director-EFL.

Expo Freight (EFL) is a leading freight forwarder in the region and has established itself as a premier provider of services for the fashion industry. As one of the largest freight forwarders in the Asian sub-continent and the sub-Saharan region of Africa, providing integrated, supply chain management of logistics services, EFL caters to a global customer base. EFL operates in 59cities in 20 countries in Africa, the Middle East, Asia and the USA.