---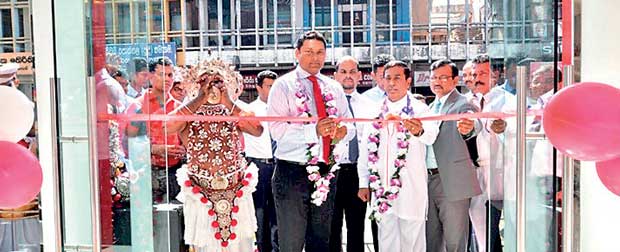 DSI celebrated the opening of yet another showroom in Kandy on the 4th of May.
The new showroom is the 6th on the list of DSI showrooms situated in Kandy. The showroom is located at Yatinuwara Street, Kandy, and can be contacted via telephone at 081-2225526.
Sena Dissanayake, the Mayor of Kandy was present at the opening ceremony along with A.H.M.I.K Abeysinghe, the Secretary of the Urban Council – Kandy, Sunil Chandrathilake the Asst. Commissioner of Labor, Thusitha Rajapaksa the Managing Director of D. Samson & Sons (Pvt) Ltd and members of the organization's senior management.
The new showroom will feature a number of international footwear and apparel brands, including Reebok, Fila, Puma, Red Tape, Anta and Liberty as well as a number of popular local brands such as, DSI, Samson, Ranpa, Jessica, Silviar, Waves, Piccaso, AVI as well as fitness equipment from Proline Fitness.
D. Samson & Sons (Pvt) Ltd plays the role of main marketing and distribution sector of the DSI Samson Group and as such is one of the country's largest retail networks, providing footwear, accessories and apparel to the local customer. The sole distributor of a number of local brands like DSI, Ranpa, Samsons, Jessica and AVI, the organization also serves as local distributor to a number of international brands including Reebok, Puma, Fila, Clarks, Liberty, Taminto, Red Tape, Fitflops, Skechers and Proline Fitness.
The corporate's network spans more than 200 company outlets and 4000 dealers and 50 sales representatives island wide. The organization's founder's vision of creating a customer centric business is highly utilized in this company by carefully studying the market to provide the most demanded products that is specific to the area and the customer.