---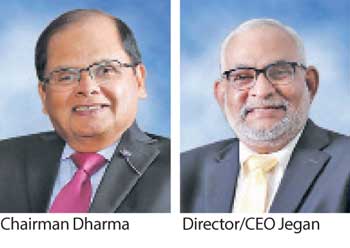 Commercial Bank of Ceylon PLC (ComBank) witnessed a stronger than average growth in new loans during 2017, which helped the bank to report higher earnings but substantially higher taxes and loan loss provisions had a somewhat bearing on the performance.

For the December quarter (4Q17) the bank reported Rs.5.05 a share or Rs.4.84 billion in total earnings compared to Rs.4.71 a share or Rs.4.3 billion in the corresponding period last year, an increase of 12.3.

The net interest income for the period was up 26 percent to Rs.10.9 billion over the same period last year while the net fee and commission income rose by 13 percent to Rs.2.6 billion.

Despite the rising cost of funds, the bank managed to expand its net interest margin to 3.62 percent in 2017 from 3.47 percent a year ago.
The bank's strong low cost fund base plus the funds raised from the rights issue may have buttressed its margin as the bank did not have to compete fiercely for deposits by offering substantially higher rates. The net operating income for the period or the net income after the provisions made for possible bad loans was also up 10 percent year-on-year (YoY) to Rs. 13.6 billion.

Meanwhile, for the year ended December 31, 2017, the bank reported earnings of Rs.17.28 a share or Rs.16.6 billion compared to Rs.15.77 a share or Rs.14.5 billion reported in 2016, an increase of 14 percent.

This is amid a 32 percent YoY increase in value added tax (VAT) and Nation Building Tax on financial services to Rs.4.9 billion and 18 percent YoY increase in income tax bill to Rs.6.7 billion.

The net interest income for the year rose by 19 percent YoY to Rs.39.6 billion and the net fee and commission income rose by 26 percent YoY to
Rs.8.9 billion.
"Other incomes comprising of exchange profit, recoveries and gains from trading of treasury bills and bonds declined to Rs.2.39 billion, mainly because the 2016 figure included translation gains due to a depreciation of the Rupee against the US dollar by 3.88 percent as against a 2.57 percent depreciation in 2017", the bank said in a press release.

Notable in the year was the substantial increase in the general provisions made against possible bad loans in 2017. The bank made Rs.1.8 billion in new provisions for 2017 from a provision reversal of a similar amount in 2016.

General provisions tend to rise along with the growth of the loan book.

Meanwhile, the specific provisions or the provisions made against large individual borrowers declined substantially to Rs.401.7 million from Rs.3.4 billion in 2016.

ComBank, the Sri Lanka's largest private lender by assets expanded its loans and receivables book by a whopping Rs.121.3 billion during 2017, an increase of 19.2 percent YoY.

The bank on a standalone basis has a total loans and receivables book of Rs.633.4 billion from a total asset base of Rs.1.14 trillion, up 13 percent YoY.

The bank's asset quality improved to 1.88 percent in 2017 from 2.18 percent in 2016, which demonstrates the faster growth in new loans against the growth in non-performing loans. Meanwhile, the deposits rose by Rs.110.5 billion or 15.0 percent to Rs.739.6 billion.

Superannuation fund, Employees' Provident Fund has 9.65 percent stake in ComBank.