---
National Policies and Economic Affairs Deputy Minister Dr. Harsha De Silva recently called on chartered accountants to adapt and grow and face head on the drastic changes the business world is witnessing.

Addressing the FCA Convocation at the Institute of Chartered Accountants of Sri Lanka (CA Sri Lanka), he said, "As a policymaker or accountant, we must learn to adapt to these evolving economic conditions and business models."

The distinguished FCA designation was conferred to 201 chartered accountants by the institute, elevating them to the highest stratum in their professional career. The new fellow members of CA Sri Lanka included high-profile corporate leaders.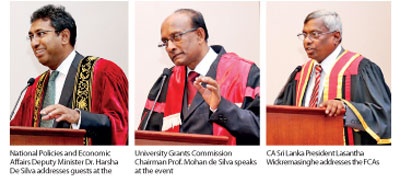 Speaking further, the deputy minister, who was the chief guest at the convocation, noted that the business models that have lasted for decades have been revolutionized within a matter of just a few years.

"So, what does this have to be with me as an economic policymaker and you, as Sri Lanka's top group of accountants?" he asked.

Dr. De Silva elaborated that the economic realities presented by these new business models mean that there was an increasing need to adapt.

"Not only have we to learn to deal with change, we need to learn how to grapple with this rapid change," he said.

He highlighted Uber, Facebook, Alibaba and Airbnb as four models that have completed revolutionized conventional business models creating a paradigm shift.

"Sectors such as taxi cabs and tourism have been completely turned on their head by the Internet's disruptive nature," he said.

Therefore, the deputy minister noted that as professional accountants and fellows of CA Sri Lanka, the FCAs have an important responsibility to evolve and change. He said that the access economy means more people were monetizing their personal assets, whether it's their car, their spare bedroom or their skills.

"The rise of long-term distribution means these suppliers are becoming a vital part of the nation's economy. These small businesses are changing the face of business. As accountants you must think about whether and how we should bring these people into our taxation system. It may be unpopular but we have to do this. We have to create an entrepreneurial culture and we have to create innovation, yet we have to also make sure that the taxes are collected," he added.

University Grants Commission Chairman Prof. Mohan de Silva said that there has been various constraints in the progression of the higher education sector in the country. He noted that the country has suffered in terms of rankings both in a global and regional context and continue to have a poor visibility as an international destination for quality higher education and student mobility, when compared to countries such as Singapore and Malaysia. But, he said, steps were now being taken to address these issues.

Prof. De Silva said that plans were afoot to establish medical faculties at the Universities of Wayamba, Sabaragamuwa and Moratuwa. He said that the technology programme introduced has become a hit among students, specially among those looking at progressing to middle-level management positions.

Prof. De Silva also said that steps have also been taken to convert the English language units at universities to English language departments, to develop the quality of teaching.
He also disclosed that the Independent Quality Assurance and Accreditation Authority Bill will be submitted to the Cabinet of Ministers for approval and this would be the way forward to develop Sri Lanka's higher education future.

CA Sri Lanka President Lasantha Wickremasinghe addressing the new FCA members said that they should take greater responsibility in shaping the profession to meet with increasing stakeholder expectations.

"The world we live in is moving fast and amidst this fast-paced change, we are also witnessing a technological revolution and this revolution is having a great impact not only in the way we live but it also impacts all professionals, including ours," he said.

Wickremasinghe said that gone were the days when everyone relied on conventional ways to carry out operations and the technological revolution has changed everything, including the way business is done and manner in which people communicate.

"This revolution has also had an impact on our accounting profession, where certain methods which were considered an inherently human process, are today being automated," Wickremasinghe said.
He explained that this was why it was important for chartered accountants, including the new fellow members to think out of the box and be ready to embrace change, as well as know how to convert challenges into opportunities and continue to be at the helm, in driving organisations to success.
CA Member Relations Committee Chairman Thivanka Jayasinghe said that the fellow status, more commonly known as FCA, is given to members as its highest level of membership.

"This premier status of the accounting profession in Sri Lanka will provide you with greater responsibility now. The professional standards that are expected of a chartered accountant, are extremely challenging and I am sure the FCA status will give you even more strength to maintain this standard," he added.