---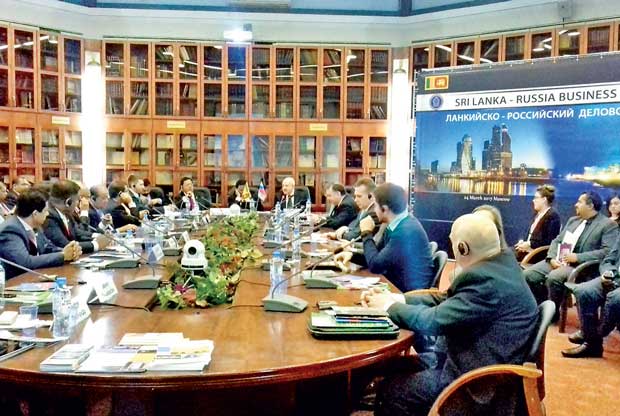 A 25-member Sri Lankan business delegation led by Sri Lanka – Russia Business Council of the Ceylon Chamber of Commerce together with the Sri Lankan Embassy in the Russian Federation visited Moscow last week.
The business delegation, which was led by President of the Sri Lanka- Russia Business Council, Isuru Samarasinghe, Managing Director of Unitrades Private Limited was organized in conjunction with the official visit of the Sri Lanka President, His Excellency Maithripala Sirisena to the Russian Federation on the invitation of His Excellency Vladimir Putin, which coincided with 60 years of diplomatic ties between Sri Lanka and Russia.
During the visit, the delegation took part in business forum conducted by the Chamber of Commerce & Industry of the Russian Federation and also took part in B2B meetings with the Russian counterparts. During the forum, Upul Jayasuriya, Chairman of the Board of Investment of Sri Lanka, made a presentation on the FDI opportunities in Sri Lanka.
During the visit, bilateral relations between the two countries were enriched by strengthening the trade ties, sourcing suitable business partners for trade, investments, joint ventures, technology transfer and services and also assisting in expanding existing business contacts of the participants.
The delegation comprised representatives from Akbar Brothers Private Limited, Basilur Tea Exports Private Limited, , Empire Teas Private Limited, Eswaran Brothers Exports Private Limited, Imperial Teas Private Limited, , Maltras International Private Limited, , Regency teas Private Limited, Stassen Exports Private Limited,Unitrades Private Limited, Andrew the travel Company Private Limited, Concord Exotic Voyages (Lanka) Private Limited,Mos-Lanka Holdings Private Limited, Galle Face Hotel, Mac Holdings Private Limited, Mega Trend Lanka Private Limited,Orofini Gems and Jewellery, Avian Technologies Private Limited, Lanka Tractors Limited, The Capital Maharajah Organization Limited, Built Element Limited, Rhino Roofing Products Limited, Jay Sea Foods Processing Private Limited, Consulting Engineers & Contractors Private Limited and The Ceylon Chamber of Commerce.