---
Sri Lanka's second largest private lender by assets, the Hatton National Bank PLC (HNB) group, posted a net profit of Rs.3.36 billion or Rs.8.56 a share, recording an increase of 41 percent from a year ago, supported by a moderate growth in loans and better margins, the interim results showed.
However, the quarterly results were somewhat dented by the trading loss of Rs.2.6 billion incurred from the bank's trading book, which mainly consisted of government securities, as the interest rates continued to rise.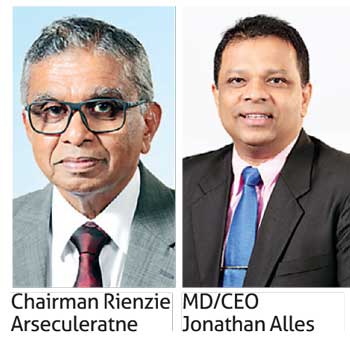 The HNB share ended 20 cents or 0.09 percent higher at Rs.220.20 at yesterday's close.
During the six months ended June 30, 2016 (1H16), the bank's loan book, on a standalone basis, rose by 5.4 percent or Rs.27.4 billion to Rs.536.9 billion.

The increase in overdrafts was Rs.7.4 billion. The pawning book contracted by little under Rs.3.0 billion but the housing loans rose by Rs.2.2 billion.
The bank is seen betting highly on housing loans, this year.

"This year, you will see HNB focusing a lot on driving housing whilst there are challenges we see opportunities in the apartment market. We expect to see more transfers being done in terms of land deals," said HNB CEO Jonathan Alles addressing the bank's investor forum, early this year.
The credit card portfolio rose again by little under Rs.500 million to Rs.5.0 billion.

The deposits rose by 5.7 percent or by Rs.29.8 billion to Rs.556.9 billion. A notable factor was the bank's low-cost deposit base measured by the current and savings account (CASA) ratio falling below 40 percent to 38.8 percent from 41.4 percent in December 2015.

This is because the dual impact from falling current and savings accounts and sharply increased fixed deposits.

From the start of 2016, Sri Lanka's banks were offering higher interest rates to attract customer deposits to fund their loan book and any short fall was met through corporate debt issuances.
In March, HNB too issued a Rs.7.0 billion subordinated debt at 11.25 percent, a competitive rate compared to the current rates offered for the deposits.

The bank's asset base grew by 9 percent to Rs.793.1 billion during the first half.

Despite the pressure on the banking sector margins, HNB was able to maintain its net interest margin at 4.18 percent, slightly up from 4.10 percent six months ago.

The net interest income rose by 28 percent year-on-year (YoY) to Rs.9.6 billion amid faster increase in interest expense over the interest income.

The net fee and commission income too rose by 23 percent YoY to Rs.1.79 billion.

Provisions made for possible bad loans against both individual borrowers as well as the entire portfolio declined, demonstrating the increased quality of the portfolio.

The gross non-performing loan ratio further declined to 2.25 percent from 2.43 percent in December 2015.

The prudential ratio – Tier I (core) capital adequacy ratio fell to 9.77 percent from 10.53 percent due to expansion in loan book.

Tier II capital adequacy was at 12.97 percent slightly improved from 12.70 percent as the March's subordinate debt issue may have cushioned the ratio.

Meanwhile, for the 1H16 the banking group made a net profit of Rs.6.7 billion or Rs.16.97 a share, up 55 percent from the same period last year.

As of June 30, the government institutions collectively held up to a 27.36 percent stake in the bank through the Employees' Provident Fund (9.80 percent), Sri Lanka Insurance Corporation (14.67 percent) and National Savings Bank (2.89 percent).

The global asset manager, Franklin Templeton Investment held a 3.36 percent stake being the eighth largest shareholder, while Norges Bank, the world's biggest sovereign wealth fund, had a 0.96 percent stake being the 15th largest shareholder.