---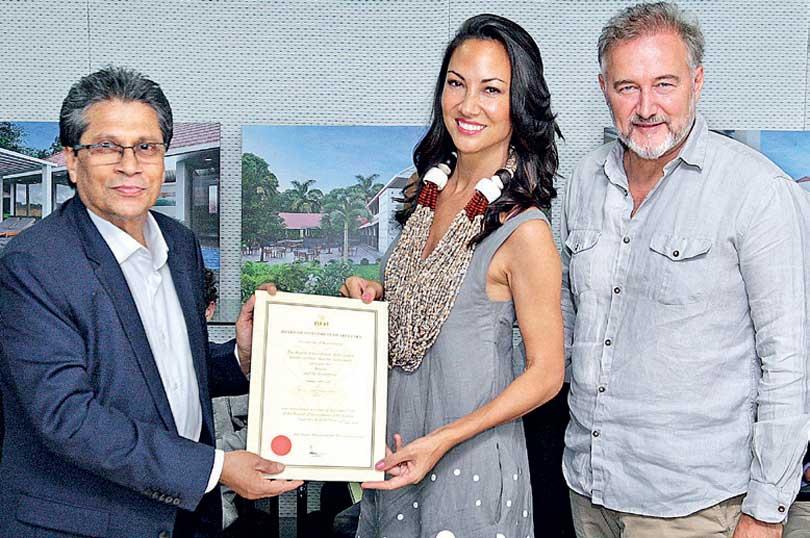 BOI Chairman Mangala Yapa officially handing over the agreement to Sundara (Pvt) Ltd Director Sabrina Van Cleef Ault and its Chairman Dale Rennie.
Pic by Damith Wickramasinghe
By Lahiru Pothmulla
The Board of Investment (BOI) yesterday entered into an agreement with the Sundara (Pvt) Ltd, a foreign investor specialized in boutique hotels, to create a luxury resort project valued at over US$ 4.5 million in Koggala.

The project named 'The Plantation Luxury Villas in Koggala' which expands over 3.5 acres would consist of 14 villas, to be completed in the first quarter of 2020.

The agreement was signed at the BOI office in Colombo. BOI Chairman Mangala Yapa said the project sends a right and positive message to the world that Sri Lanka is safe to invest.
"At a time when negative opinions are being circulated around the world, this sends a strong and positive message. The investment reflects a strong and steady increase in investment for one of Sri Lanka's most promising 'sectors, tourism. The sector is certainly strong enough to bounce back from any setback. Sri Lanka is rising from the ashes like a phoenix and remains ever ready and open for investments," he said.

The Sundara (Pvt) Ltd was founded by Dale Rennie (Chairman) and Sabrina Van Cleef Ault (Director) who are already operating 'The Heritage Cafe and Bistro' at the Galle Fort.
Speaking to the media, Rennie said they had plans to go ahead with the project prior to Easter Sunday attacks and that the attacks had zero effect on their decision.

"These things could happen in any country and then we move on. Our decision was not deterred by the attacks. The project site is already being cleared," he stressed.

Meanwhile, Van Cleef Ault said their property in Koggala perfectly encapsulates the mini treasure trove of wonders in Sri Lanka - mountains, paddy fields and a perfect beach not too far away. "It is an absolute pleasure to take the first concrete step forward on this project," she said.

Rennie has the award-winning ultra-luxury cliff front property Villa Anugrah in Bali, Indonesia and another boutique hotel in the Philippines while his wife and business-partner Sabrina is the original co-founder and Creative Director of the iconic uber luxury nightclub brand Panagaea, the highest earning property of its kind in the world.

The Plantation Koggala has been designed by Sri Lankan architect Manjula Kalhara with 14 exclusive one and two-bedroom pool residences sized from 1204-2650 square meters.
The villas, once completed, may be purchased for private use or placed in the resort rental programme for guaranteed 7 percent per annum returns.