---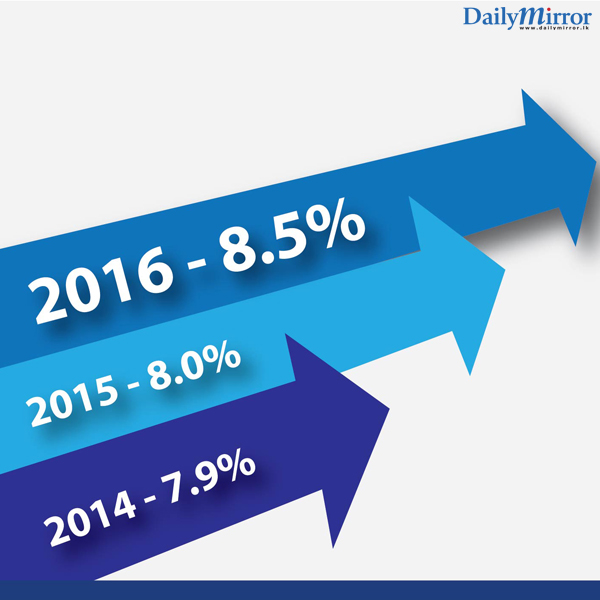 Allianz Life Insurance Lanka (Allianz Lanka) registered steady growth in returns to policyholders on itsinvestment linked life insurance policies which delivered dividends (/ a crediting rate) of 8.5%for the financial year 2016 (FY 2016).
Based on the life fund earnings attributable to each policy, the dividends are credited to the applicable policy where they accrue further returns on a compounding basis. The Insurer had declared dividends of 7.9% in FY 2014 and 8% in FY 2015.
"Thanking our policyholders for placing their trust in Allianz Lanka, it gives me great pleasure to note that we have declareddividends of 8.5% for FY 2016. The steady growth in returns is a reflection of our strong fundamentals as well as our prudent investment strategy," said Surekha Alles, Chief Executive Officer - Allianz Lanka."We look forward to delivering greater value to all our stakeholders as we continue to strengthen our position as one of the strongest insurers in the market."
Allianz Lanka offers three investment linkedlife policies that provide a life cover as well a return on the sum invested along with a host of benefits and privileges. Universal Life Family provides returns oninvestment to take care of the policyholder's family's goals together with a life cover to help them meet unplanned events.Offering greater flexibility, Allianz Vishrama Suwa permits policyholders to receive retirement benefitseither as a one-time lump sum payment or as a set of scheduled payments over a period of 5, 10, or 15 years. It allows offers flexible premium paying terms and the ability to grow the retirement fund through top-up premiums. Providing policy benefits until the age of 70, Allianz Power Link gives policyholders control over how their money is invested and also allows them to pick from a range of convenient premium payment options.
Allianz's Arogya critical illness plan has the distinction of being the only policy in the country that provides payouts for both critical illnesses and accidents at 3 different stages. While traditional critical illness covers offer payouts only once when the illness occurs, Allianz makes lump sum payouts at early, major and critical stages of an illness or accident with Arogya. This is aimed at helping policyholders get the necessary treatment right from the early stages and to facilitate early recovery.Allianz Lanka waives off all future premium payments for the remaining duration of the policy once a major stage claim is made. Policyholders also receive the total sum remaining in their investment account if and when their illness progresses to major and critical stages. The policyalso covers children affected with critical illnesses, a feature that is not offered by any other insurer in the market.
Allianz Insurance Lanka Ltd. and Allianz Life Insurance Lanka Ltd., known together as Allianz Lanka, are fully-owned subsidiaries of Allianz SE, a world leader in integrated financial services.Having started out as a Greenfield operation in 2005, it has emerged as one of the fastest growing insurance service providers in the country. The company prides on supportingits clients' business strategy by understanding their risk profile and needs, and providing individual solutions from its world class portfolio of products and services.Around the world, over 140,000 Allianz employees serve some 86.3 million retail and corporate customers in about 70 countries, who place their trust on the knowledge, global presence, financial strength and solidity of Allianz to support them in their moment of truth