---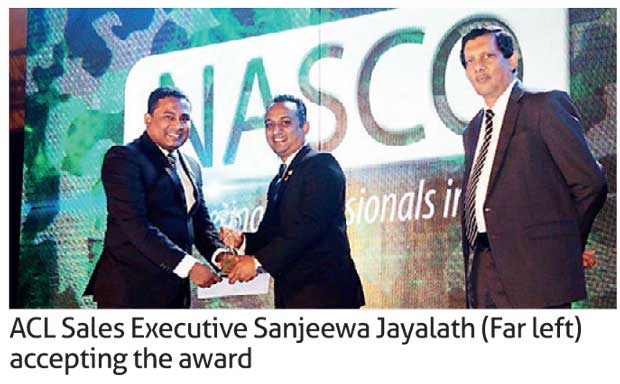 ACL Cables PLC stamped its dominance yet again showcasing sales excellence by clinching Gold at the National Sales Congress (NASCO) Awards 2017, organized by Sri Lanka Institute of Marketing (SLIM) held recently.

ACL Sales Executive Sanjeewa Jayalath triumphed with Gold for the Industrial Products and Services sector. He became the only candidate to win a Gold award from the cable manufacturing sector. Importantly this esteemed recognition is for sales service excellence during the financial year 2016/2017 from the total industry category.

Additionally, this was the consecutive second occasion ACL Cables candidates have been recognized for their achievements and exceptional sales professionalism at the annual NASCO awards.

The NASCO Awards are a most sought-after recognition within the sales and marketing fraternity in the country. Accolades are presented to contenders who have achieved the highest standards in sales professionalism, customer service and care. The award ceremony provides an ideal platform to identify and reward outstanding sales personnel from a variety of industries nationwide. Entries were initially submitted via a comprehensive entry kit from which suitable candidates were selected through a second round panel. Finally, winners were selected based on a one-to-one interview.

Commenting on this great achievement, ACL Cables PLC Managing Director Suren Madanayake said: "ACL is extremely proud of this award and Sanjeewa's achievements. Our entire sales team continually work very hard together to support our business and winning awards consecutively reflect on the high standards we strive to achieve daily."

ACL Cables PLC continues to perform strongly with relatively high value additions. The company has introduced new innovative product categories such as fire resistant, fire retardant cables, fire survival cables, aerial bundled cables, low voltage transmission cables and the finest range of electric switches and sockets based on research and stringent testing via their laboratory.

Further strengthening its product portfolio ACL Cables PLC has also moved into the trading of superior electric switches, trip switches, breakers and ceiling fans with quality unmatched by any.