---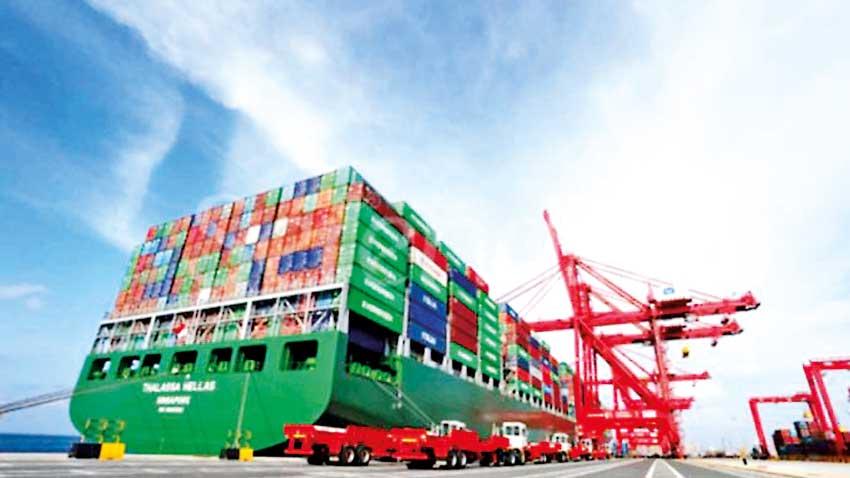 Tea replaces apparel to become top export earner in April
Cumulative merchandise exports fall by 26.6% up to April
Service exports down by over 25% to little over US $ 1bn
EDB says 36% of revised annual export target achieved by end-April

Sri Lanka's April merchandise exports have fallen to their lowest levels since April 2002, recording a historical drop of 64 percent year-on-year (YoY) to US $ 277.4 million, driven by a record 81.8 percent YoY decline in apparel exports with tea exports regaining the top export status after decades, due to the impacts stemming from the COVID-19 crisis.

In April, the tea sector regained the top exporter status after decades recording US $ 78.37 million in export earrings, despite a 20.81 percent YoY decline in earnings, replacing apparel exports, which recorded US $ 64.91 million export earnings.

The slowdown in global demand, supply chain disruptions and the nationwide curfew, which was imposed on March 20 to slowdown the spread of COVID-19, have led to the drastic drop in merchandise exports in April.
"It is understood that we are witnessing a decline in exports during the month of April, which is mainly caused by the shutdown of many operations, due to the prevailing COVID-19 crisis and also to the fact that the Sri Lankan government taking strict measures in controlling the situation," Export Development Board (EDB) Chairman Prabhash Subasinghe reasoned.

In April, Sri Lanka's industrial exports recorded a sharp decline of over 60 percent YoY, although most agricultural exports recorded below 35 percent YoY declines, according to Sri Lanka Custom's monthly provisional exports statistics, compiled by the EDB. The coconut-based exports brought the third highest export earnings of US $ 27.88 million in the month, despite recording an over 35 percent YoY decline. It was followed by rubber-based exports, which brought in US $ 25.77 million foreign exchange to the country, although recording a 53.46 percent YoY drop in earnings.

The cumulative merchandise exports fell 26.6 percent YoY to US $ 2.85 billion during the first four months of the year, with only petroleum products sector (11 percent) and other export crops sector (53.52 percent) recording positive YoY growth rates.

Subasinghe noted that the cumulative merchandise export performance during the first four months of the year reflects a decline in global demand of goods, due to the global economic impact caused by the prevailing pandemic situation in the world.

In the period, service export earnings, which include ICT/BPM, construction, financial services, logistics and wellness tourism sectors, have estimated to have declined by 25.4 percent YoY to US $ 1.03 billion.

Consequently, the overall export earnings during the four-month period contracted by 26 percent YoY to US $ 3.89 billion, compared to US $ 5.3 billion recorded during the corresponding period, last year.

The EDB stated that 36 percent of the annual revised export target of US $ 10.75 billion has been achieved by end-April.

Meanwhile, diamond, gems and jewellery sector was one of the worst affected sectors in April, as the export earrings from this sector fell by a record 93.70 percent YoY to US $ 1.06 million.

In the month, a sharp decline of 72.3 percent YoY was also observed in seafood exports, which only brought in US $ 6.26 million in foreign exchange earnings.

Earnings from key industrial export sectors such as electronics and electronic components and petroleum products, also recorded sharp declines of over 60 percent YoY in the month.
On a positive note, the EDB emphasised that vegetable planting materials and vegetable products, tamarind, areca nuts, ginger, oleoresins, onions, instant tea, coconut husk chips, essential oils, coconut shell charcoal, kiriala, green gram, melons and papayas, gherkins, organic chemicals, recorded a positive YoY growth in April 2020. In particular, the demand for healthy agricultural goods, including immune boosters such as garlic, sweet potatoes, tamarind, ginger and coconut vinegar, has shown a substantial growth.

The data showed the exports of these goods growing exponentially during the first four months of the year.

Subasinghe said that the EDB is working on finding new markets and new products to meet the current market needs created by the COVID-19 pandemic while working closely with the exporters to resolve their ongoing issues.