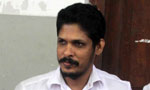 Wela Suda, his wife and another accused contended before High Court Judge Devika Tennakoon De Livera today that the prosecution cannot maintain the money laundering case against them as the indictment was erroneous.
Senior Counsel Anura Meddegoda defending Wele Suda's wife submitted that the 57 indictments filed in the charge sheet were erroneous because the Penal Code by Section 174 and 175 had specifically stated that the charges should be framed on the offences that have committed within a period of one year.
He asserted that according to that Section only three such offences committed by an accused within a period of one year should be filed in one indictment.
However, the Attorney General had filed 57 charges allegedly committed by the accused, Samantha Kumara Vithanange alias Wele Suda, his wife and another accused within a period of two years and four months commencing from January1, 2010 to April 24, 2012- which was wrong, the counsel said
The counsel of the second and the third accused said they would stand by the assertion of the counsel for the first accused.
Senior State Counsel Thusith Mudalige objecting Counsel Anura Meddegoda said that Section 175 (1) of the Penal Code had stated that a series of acts interlinked with each other could be indicted under one indictment.
The case was postponed for inquiry on May 5. Before the High Court Judge Devika Tennakoon de Livera.
Wele Suda's wife Gayani Priyadharshani and Wasanthi Wasundara were indicted with Wele Suda on 57 charges of money laundering by purchasing movable and immovable assets by utilizing the wealth earned from peddling heroin.
The CID alleged that the accused had purchased houses and blocks of lands at Colombo, Rajagiriya, Pannipitiya Madiwela, Dehiwala Nedimala and a BMW car. Jeeps and had deposited such earned moneys in the account in several banks.
The Police Anti-Narcotics Bureau initiated investigations after raiding a huge heroin network on a super luxury flat.
They also took into custody about one kilo of heroin and some suspects engaged in the packing of heroin.
Based on the Narcotics Bureau report, Samantha Kumara's wife Priyadharshani and Wasundara were taken into custody and the properties bought out of the sale proceeds of heroin were also confiscated.
(T. Farook Thajudeen)