---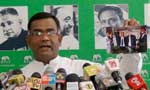 The main opposition United National Party (UNP) today charged that the government may use LTTE assets in its campaign for a Presidential Election via Kumaran Pathmanathan (KP) following the lifting of the European Union General Court's ban on the LTTE.
UNP General Secretary Tissa Attanayake said no one had denied KP of being the current leader of the LTTE and therefore he would have easy access to the LTTE funds and assets.
"Now that the ban on LTTE has been lifted by the EU General Court, current leaders including KP will have access to LTTE funds once they were unfroze," he told a news conference in Sirikotha.
He said there were numerous LTTE leaders in the government today and asked what they might do if they have the freedom to access into LTTE funds.
"If all the LTTE leaders in the UPFA government have access to these funds, what would they do? They might use the funds in a presidential election. It is hard to say it wouldn't happen," he said.
Mr. Attanayake said the government had made a fuss when KP was arrested and they pledged to bring back LTTE funds to the country through KP.
"According to the government, LTTE assets and funds are worth over Rs. 200 billion. They can say that it couldn't get the funds because of the ban on the LTTE back then. But there is no longer a ban on the LTTE from the EU. Therefore LTTE leaders have access to the funds," he said.
He also charged the government had failed to take adequate action to prevent the ban from lifting or to appeal against the Court decision. "The government can't get away from taking the responsibility of the present situation," he said.
Mr. Attanayake said the government had not submitted any evidence during the last eight years to retain the ban and said that was why the EU General Court had lifted the ban on LTTE following an appeal from the Tamil Diaspora. (Lahiru Pothmulla and Sanath Desmond)