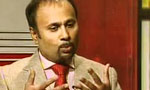 Despite former Ambassador Udayanaga Weeratunga's request to release the container carrying his personal effects, the Ministry of Foreign Affairs (MFA) states that it cannot be released until he hands over his diplomatic passport to the ministry.
MFA Spokesperson Mahishini Colonne told Daily Mirror Online a short while ago that the container would not be released without Mr. Weeratunga's diplomatic passport.
"He hasn't yet handed it over to the ministry despite repeated requests to do so," she said.
Ms. Colonne also pointed out that the ministry had clearly stated that even the request by Mr. Weeratunga to authorize his Power of Attorney certificate was rejected because of the absence of his diplomatic passport.
She said she was unaware whether the container had been handed over to the Financial Crimes Investigation Department (FCID).
"An inquiry has been made from the overseas affairs division on whether Mr. Weeratunga's container was handed over to the FCID but we haven't yet received a response. I am sure if it had been handed over it was done so upon obtaining proper legal clearance since an investigation against Mr. Weeratunga is currently ongoing in the FCID regarding the controversial MiG deal," Ms. Colonne said.
Former Sri Lankan Ambassador to Russia, Udayanga Weeratunga in a statement which was published in media today stated that a container with his personal effects had been handed over to the FCID by the ministry despite his numerous efforts to get it released. Furthermore in the statement, he has condemned the inability to get his container released, describing it as a 'victimization of a state official by the yahapalana government'.
(Lakna Paranamanna)