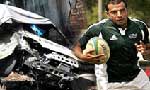 Motor car bearing number KQ-6543 which was found with Wasim Thajudeen's body inside had been severely gutted by fire. A definite opinion as to whether the fire was due to an accident cannot be given, stated W. L. Wilson, the technical consultant of Toyota Lanka head office, in a letter addressed to Colombo Additional Magistrate Nishantha Peiris.
This letter was in response to an order of the court.
The company had replied to a questionnaire submitted by the CID. It had said, in its reply, that the front, the left and right sides and the underside of the car had been dented and damaged, and its interior completely gutted. It said that as a result it was impossible to determine the effect the impact had had on the driver.
It further said that the vehicle appeared to be a Toyota Vitz car, which had neither been imported by the company nor sold by it to the registered owner. From the registration, it said, it could be surmised that the vehicle was a reconditioned one and not one imported by the company.
(Nirangi Abeywickrama)