---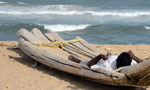 Protesting the death sentence awarded to five members of their ilk by a Sri Lankan court for drug trafficking, about 30 lakh fishermen in Tamil Nadu went on a one-day strike on Thursday, urging the Centre to put pressure on Colombo for their release.
Fishermen stayed off the sea in 13 coastal districts of the state including Nagapattinam, Tuticorin, Kanyakumari and Ramanathapuram among others, fishermen association representatives claimed.
Shops were downed in fishermen-dominated localities of the State with black flags hoisted on their homes as a mark of protest, they added.
The Sri Lankan court's decision had come as a 'shock' and today's protest was a 'token strike,' they said and warned of intensifying their protests if their comrades languishing in prison in the island nation were not released.
They claimed the five fishermen hailing from Ramanathapuram were innocent and that they were 'framed.'
Protesting fishermen demanded that Prime Minister Narendra Modi 'pressured' Sri Lankan President Mahinda Rajapaksa for the release of the five persons from Tamil Nadu.
A Sri Lankan court had awarded death sentence to the five fishermen, arrested in 2011, last week for drug trafficking even as India had held that they were innocent and that it would pursue legal options in the backdrop of demands for their release from the State. (Source: The Hindu)