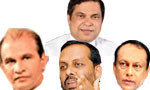 The cabinet ministers, state ministers and deputy ministers loyal to ex-president Mahinda Rajapaksa are expected to submit their resignation to President Maithripala Sirisena soon, a Minister said today.
Fisheries Minister Mahinda Amaraweera said several ministers from the UPFA have requested General Secretary Susil Premajayantha to convene a central committee meeting to take a final decision on whether they should remain in the UNP-led government.
"I have decided to give up my portfolio but I cannot send my letter of resignation to the President without the sanction of the party because the decision to accept ministerial portfolios were taken by the UPFA central committee. Therefore, the resignation also must be approved by the CC," the minster said and added that the CC was scheduled to meet in the next few to decide on this matter.
He expressed his displeasure and disappointment over the much publicized statement made by President Sirisena to the media last week and added it was a set back to the UPFA election campaign.
He told the media that he had decided against his much hyped retirement from politics because if he did so it would be an advantage to the UNP in the Hambantota District.
Minister Reginald Cooray said he would also resign when the UPFA CC approves it.
He said several UPFA ministers were not satisfied with the performance of the government.
Meanwhile, Power and Energy Minister Patali Champika Ranawaka said the National Government formed after the presidential election would introduce the 19th and 20th Amendments to the Constitution and carry out the balance work as set out in the100-day programme. He said the government had fulfilled many of the pledges given to the people despite the leg-pulling tactics by the UPFA.
"However, we will form a strong government after the August 17 elections and fulfill the promises we were not able to do in the six months period of the minority government," the minister said.
It is learnt that Ministers Duminda Dissanayaka, S.B. Dissanayaka, Dr. Sarath Amunugama, Vijith Wijayamuni Soyza and A.H.M. Fowzie will remain in the cabinet.
Those expected to resign are Ministers Mahinda Amaraweera, Reginald Cooray, Piyasena Gamage, Janaka Bandara Tennakone, Felix Perera and Lakshmana Yapa Abeywardabna.
(Sandun A Jayasekera)