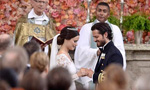 A Sri Lankan born priest, Rev. Michael Bjerkhagen has officiated the Royal wedding between Prince Carl Philip - the only son of the Swedish King and Queen - and Miss Sofia Hellqvist. This is the second Swedish Royal wedding officiated by Rev. Bjerkhagen.
Rev. Bjerkhagen is the Chaplain to the King of Sweden and Rector of the Swedish Royal Court Parish and had officiated Prince Philip's wedding on June 13, 2015. His first had been in 2013, between the King's youngest daughter Princess Madeleine and Mr. Christopher O´Neill.
According to an article that was written by Rev. Bjerkhagen which had been received through the Sri Lankan Embassy in Sweden, he had been born in Kandy in 1966. His mother had been of a burgher ancestry and his father, from a traditional old Sri Lankan family in Kandy. Rev. Bjerkhagen had left Sri Lanka in July, 1972 at the age of five when he was adopted by a Swedish childless couple – a Colonel and an economist - together with his adoptive sister. Both his adoptive sister and Rev. Michael had been at the same orphanage, Evelyn Nurseries Orphanage in Kandy next to Hillwood College.
Today Rev. Michael Bjerkhagen strives to give a helping hand to orphanages in Sri Lanka. One of them is St: John's Boys home in Kegalle. He hopes to visit his country of birth often and says he is very proud of being a Sri Lankan. He has been involved in various Royal occasions and is a highly respected member of the Swedish Society.