---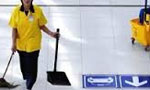 Several cleaning employees at the Bandaranaike International Airport launched a strike this morning demanding the management increase their pay.
Airport officials said the employees who were from a private company to which the services were outsourced had not reported for work today.
Temporary workers have been employed to ensure services run smoothly at the airport, officials said.
At least 90 workers engaged in cleaning services and those who help passengers with the trolleys are taking part in the strike.
(T.K.G. Kapila)