---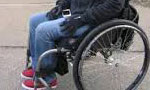 The mother of a handicapped student of a leading girl's school in Colombo has complained to the Human Rights Commission over the shifting her handicapped daughter's class room to the third floor of the building much to her inconvenience.
She said she and her husband had to carry their handicapped daughter and the wheel chair to the class room on the third floor and noted that on one occasion she had fallen on the staircase while carrying her handicapped daughter.
The mother said that her father who came to help her had now been informed that he should refrain from coming to school so often and that her request to shift the class to the ground floor had fallen on the deaf ears.
She told the Human Rights Commission that these events had compelled her daughter to remain at home.
Meanwhile, Ceylon Teacher Association General Secretary Joseph Stalin said it was sad that a handicapped girl had lost the opportunity and the right to be educated because of the steps taken by the school administration and that it was a violation of her fundamental rights.
(Tharindu Jayawardene)