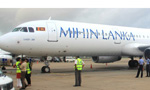 A Mihin Lanka flight landed safely at Bandaranaike International Airport (BIA) upon being forced to return when pilots detected a technical problem en route to Dhaka, Bangladesh today.
The Mihin Lanka flight MRL501 along with 159 passengers and 7 flight crew had departed BIA at 9.30 am though it was scheduled to take off at 7.25 am.
After takeoff, the pilots had detected a defect in the technological system and decided to return to the BIA. It grounded at 10.20 am, the Head of Mihin Lanka Commercials, Rohan Perera said.
When asked the reason for the delay of the departure of the flight MRL501, the BIA officials said it was not a technological fault but some changes of the flight crew.
Mr. Perera said that the exact nature of the technical issue is not yet known and added the authorities are inspecting the aircraft to determine the technical fault.
He added that the passengers were given accommodation with all facilities.
(Piyumi Fonseka and Deepa Adikari)