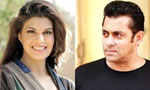 Mumbai:
Actress Jacqueline Fernandez is unhappy with media as she thinks that media should have asked them before printing about their Sri Lanka visit.
Salman's Kick co-star stressed that the duo was there to conduct eye camps on behalf of Being Human and not for supporting a political party.
"The intention was very clear from our side. We were there to promote and conduct eye camps on behalf of Being Human. Salman has been doing eye camps in Sri Lanka and we always wanted to go there. But we had less time so the event was not as successful as we thought it would be. Politics was not in the picture at all," Jacky said.
"I can understand the sentiments of people but I have never spoken about my political views whether it is in India or Sri Lanka. For me it was a joyous time. I was there in my own country and Salman was with me for a charity event. It was a brilliant opportunity. We were there to spread awareness. What made me more sad was that no one asked us anything before writing such stories," added the Sri Lankan beauty.
Jacqueline, who was last seen in Kick opposite Salman, believes that her stagnant career has got new rhythm post working with him.
Besides, Jacqueline's name has also been linked up with Salman while filming Kick.
Jacqueline is currently busy promoting her next "Roy" starring Ranbir Kapoor and Arjun Rampal opposite her.
(pardaphash)