---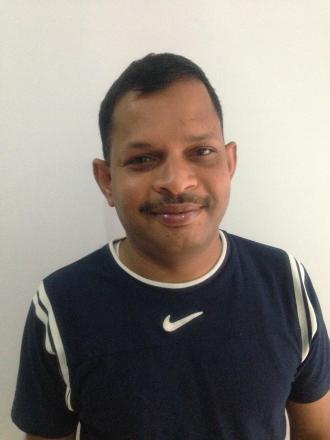 An asylum seeker who escaped war-ravaged Sri Lanka was mowed down and killed in a hit-and-run last night just metres from his home in Croydon.
Jeyaratnam Kandiah, 43, described as "charming" and "much-loved" by friends today, fled to the UK 14 years ago but died after being hit by a BMW at a pedestrian crossing in Shirley.
Mr Kandiah, known as Selvam by friends, was pronounced dead after the crash, which happened as he crossed Wickham Road at 8.50pm.
He was mowed down as he walked the short journey from a friend's house, where had eaten dinner, to his home in Spring Park Road, and died within 40 minutes despite paramedics fighting to save him.
His friend of 10 years, Siva Arun, today paid tribute to Mr Kandiah and urged the BMW's driver to come forward.
Mr Arun, thought to he last person to see Mr Kandiah alive, said: "He was in my house yesterday. We had dinner and then he went home and it was then that he was hit.
"The police knocked at my door at two o'clock in the morning. I was really shocked. My colleague and I identified him."
The 43-year-old estate agent added: "We were very good friends. He was very charming and very fun-loving.
"He liked cooking and helped people all the time. He was always getting involved in the community."
Mr Kandiah, who was single, arrived in the UK in 2000 from Jaffna, a northern Sri Lankan city devastated by the country's civil war. He lived in Tooting before moving to Croydon eight years ago.
Mr Arun said: "He had some trouble with the [Sri Lankan] Government forces. When you had a Tamil protest in Parliament Square, he was always there."
He added: "He was very stressed, as well, because he had been 14 years in this country waiting for a visa.
"He recently went to Liverpool to reapply.
"He did odd jobs, building work and things like that, to make ends meet."
Patrick Ratnaraja, director of the Croydon Tamil Business Forum, described Mr Kandiah was "a young man of many talents".
He said: "He was a very nice chap, much-loved by the community. It is very shocking."
Mr Kandiah's mother, who lives in Canada, and sister, in Switzerland, have been told of his death.
Police today appealed for witnesses to the collision, at the junction with Spring Park Road, to come forward. They said the dark BMW involved was likely to have sustained frontal damage. (croydonguardian)