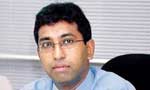 The government will discuss with the United States (US) in joining the Trans-Pacific Partnership Agreement (TPP) with that country during the next round of talks on Trade and Investment Framework Agreement (TIFA), a Deputy Minister said yesterday.
TPP is said to be the largest trade agreement accounting to 40 per cent of world trade.
Deputy Foreign Affairs Minister Dr. Harsha de Silva told Daily Mirror that the US would focus on signing this agreement with 12 countries once the Congress ratified it.
Canada, Mexico, Chile, Australia, New Zealand, Singapore, Malaysia, Brunei, Vietnam, the United States, Peru and Japan are the 12 countries to join TPP at the moment.
"It is a comprehensive and broad arrangement that opens trade, services and investments, and it will be of immense benefit for Sri Lanka to join it, and the US is basically looking at it", the Deputy Minister said.
He pointed out that the government would have talks on TIFA within the next few weeks in Colombo, and at that time, attention would be paid on modalities of joining TPP.
"We will place TPP in the TIFA agenda," he mentioned.
(Kelum Bandara)