---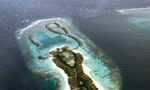 The government of Maldives has declared a state of emergency after a fire at a water treatment plant cut off drinking water to the capital.
About 100,000 residents in Male have lost access to drinkable tap water, the government says.
The authorities are providing bottled water for free. Scuffles were reported as residents fought to buy up water supplies in shops.
India says it is airlifting drinking water to the low-lying island chain.
The Maldives government has also appealed to Sri Lanka, China and the US for help.
According to the UN, there are no permanent rivers or streams on the Maldives, and the country finds it difficult to obtain suitable drinking water.
By far the most drinking water in the capital is provided by desalination plants.
Hotels and resorts are not affected by the shortage, as they have their own water treatment facilities.
The Maldives economy revolves around tourism, which generates about 30% of the country's gross domestic product (GDP).
The country is also vulnerable to a rise in sea levels associated with climate change, as none of its islands are more than 1.8m (6ft) above sea level. (BBC)