---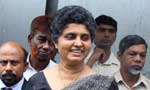 A Central Bank Director was today directed by Court to file a report on December 17 after checking with the NDB whether it could allow the former Chief Justice Shirani Bandaranayake's lawyers to inspect the user logins of her accounts without making any payment.

Colombo Chief Magistrate Gihan Pilapitiya made this direction sequent to State Counsel Dilan Ratnayake appearing on behalf of the Attorney General saying that though the Court had ordered the NDB to allow the defense Counsel to inspect the user logins, it had not allowed them to do so due to some practical difficulties faced by the bank.
When the case was taken up earlier, the Magistrate noticed the CB's Commercial Bank Monitoring Unit Director to appear in Court yesterday so that the matter could be resolved.
Mr. Ratnayake said because the matter was still unresolved the Magistrate should direct the CB Director to take suitable steps to resolve this matter.
Counsel for ex-CJ Shirani Bandaranayake told Court that there had been rumors that confidential information on Dr. Bandaranayake's accounts had been released to the Observer Newspaper, Websites and to a bulletin circulated in the Supreme Court during the impeachment with the knowledge of the Central Bank
The CB Director while denying the allegation said the Central Bank did not intervene into a private matter between the NDB and its clients.
She said their unit did not have any records on user logins of private banks and that the Central Bank only did periodical reviews on banks and had no information on the user logins to the accounts held by Dr. Bandaranayake.
Attorney-at-law Mahesh Senaratne appearing for the NDB said there was no possibility of the bank providing the user logins of the accounts belonging to her.
He said if it was done it would take at least six hours a day for the bank to complete one day's work which would also cost a large sum of money to make substantial changes in the day to day activities. (T. Farook Thajudeen)
Video by Sanath Desmond