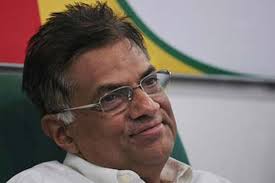 The entire Parliament will be converted into a government after the next general election and it would not be a government of one party alone, Prime Minister Ranil Wickremesinghe said yesterday.
Addressing a ceremony organized by his alma mater Royal College Colombo to felicitate him and other ministers who were old boys of the school, Prime Minister Wickremesinghe said the whole Parliament would be converted into a government that would run the country for five years.
"Many ask me whether the UNP would form a government alone or if it would form an administration with the SLFP or whether it would form an anti Mahinda government. But my answer is that we will turn the entire Parliament into a government," he said.
Mr. Wickremesinghe said the all-party government would rule the country for five years and then whoever got a majority at a general election held after five years would rule the country next.
"We will get together and build the nation in five years and make Sri Lanka the best country in Asia," he said.
We will build a future for every student in the country, he told the children.
"I have returned to the school of our fathers for the third time. I first did it twenty years ago and then returned to school after eight years. It took me ten yeas to come to school as the Prime minister," he added.
He recalled distinguished Royal College old boys such as the late Anagarika Dharmapala and J R Jayawardene and a host of others who had played outstanding roles in shaping the country.
Ministers Lakshman Kiriella, Sajith Premadasa, Rauff Hakeem, D M Swaminathan, Gayantha Karunatilleke, Ravi Karunanayake and Deputy Minister Harsha de Silva were present at the ceremony. The presence of opposition MPs Dinesh Gunawardane and TNA MP M. A. Sumanthiran was a notable feature at the ceremony.
(Yohan Perera)