---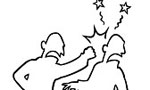 Northern Province Agriculture Minister P. Ayngaranesan and provincial councilor K. Sarveswaran of the Tamil National Alliance (TNA) were injured in a clash with the EPDP during the Jaffna District Development Committee meeting today, Police said.
Northern Province Chief Minister C. V. Vigneswaran and Minister Douglas Devananda presided at the the Development Committee Meeting held today.
The clash resulted in the Chief Minister walking out of the meeting.