---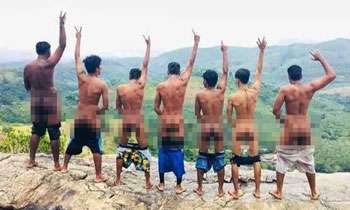 A group of young men and women, who climbed the Pidurangala Rock belonging to the Pidurangala Raja Maha Viharaya in the historic Sigiriya, had allegedly taken their nude photos and posted them on social media.
These photos that have been taken by them within the sight of Sigiriya causing insult to these religious places have gone viral on the social media. The Sigiriya Rock and Pidurangala are located a few kilometres away from each other. The archaeologists say that the Pidurangala monastery had been built for Arahant monks and offered for their use before the construction of Sigiriya.
In response to this, the chief incumbent of Pidurangala Raja Maha Viharaya, Ven. Daniyagama Ananda Thera said an immediate inquiry should be held for this indecent act bring the culprits to the book because these photos have been posted on Facebook.
He added that it is disgusting how these people who come to see this world famous place had behaved. If they have understood history and the morality, they could not have behaved in such a manner, according to the monk.
When tried to inquire from the archaeological officer of Sigiriya in this regard, an officer of that office said that they might have behaved in that way because there was no archaeological officer in charge of this area. However, he said that he would report to the higher authorities concerned in this regard for necessary action.
A lot of local and foreign tourists visit Sigiriya and the surrounding religious places these days.
This is seen as a trend started on social media. (Kanchana Kumara Ariyadasa)