---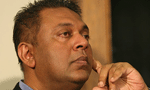 Sri Lankans must not live like frogs in a well, as we have done in the past, Foreign Affairs Minister Mangala Samaraweera said.
Delivering a speech at the convocation ceremony of Bandaranaike International Diplomatic Training Institute (BIDTI) held yesterday, the minister said it was time for Sri Lankans to start focusing on the future.
"The difficult times of conflict are now over, hopefully, for once and for all. We must not be stuck in that past. This does not mean that we must not learn from that past. We must not live like frogs in a well, as we Sri Lankans have done. It's time for us to start looking at the future," he said.
He said Sri Lankans must help each other heal from the painful experiences of the past and that we have to come to terms with the tragedies if we are to move forward with optimism.
Minister Samaraweera said journey towards true reconciliation would not be smooth and that there will be difficulties to overcome as we progress.
"But we must not lose hope. We must persevere. After all, this is our common future that we are designing. Sri Lanka certainly cannot succeed in isolation. We must continue to work in cooperation with countries and also work for a strong rules-based international order,' he said.
Meanwhile, he said he had noticed that sometimes, we spend far too much time complaining about what is wrong in the country instead of looking for ways to improve things.