---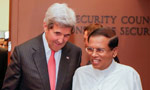 US Secretary of State John Kerry, who met with President Maithripala Sirisena in New York, US, had expressed confidence that the Sri Lankan Government will fulfill its international commitments.
A statement issued by the US State Department said the President and the Secretary, who met on the sidelines of the UNGA, had discussed the strong relationship between the two countries and the first US-Sri Lanka Partnership Dialogue.
The Secretary had commended President Sirisena's leadership in guiding the government in pursuing meaningful reconciliation and justice in Sri Lanka.
"The US stands with Sri Lanka on strengthening its economy, advancing good governance and ensuring human rights and democratic participation for all of its citizens," the statement said.
Meanwhile, President Sirisena has said that the government continues the path towards economic progress and reconciliation but the government is facing a lot of challenges from the destabilizing forces in the North as well as the South, who want to deter the reconciliation process.
"For example, some of the small minority of the people in the North refused to go back to their lands due to pressure from the extremist groups. Similarly, some Southern groups are engaged in decrying the reconciliation process. But the unity government is determined to implement the intended programs despite such opposition", he said.
According to a statement issued by the President Media Division (PMD), the President had clarified that although there are differences among the policies of the unity government they have agreed upon a broad policy formula and continue to implement it.
"Therefore, strengthening the stability of the government remains uncompromised as it is committed to fulfilling aspirations of the people who elected this government on January 08, 2015", he said.