---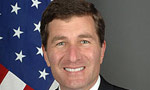 US Assistant Secretary of State for Economic and Business Affairs, Charles H. Rivkin will visit Sri Lanka and Burma between August 8 and 12, the US Embassy said in a statement.
Assistant Secretary Rivkin will lead the State Department's "American Innovation Roadshow" to Rangoon and Naypyidaw on August 8 to 10 in Burma.
This trip is part of an ongoing series of State Department Innovation Roadshows across
Asia, which were launched by US State Secretary John Kerry and are part of US-ASEAN Connect.
It follows earlier roadshows with leading US companies led by Assistant Secretary Rivkin and Senior Adviser to the Secretary of State, Ambassador David H. Thorne to Indonesia, Vietnam, Philippines, and four cities in India.
Assistant Secretary Rivkin will be in Colombo on August 11 and 12 to meet government and business leaders to discuss opportunities for increasing two-way trade and investment.