---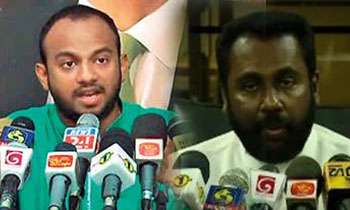 UNP yesterday welcomed the statement made by President Maithirpala Sirisena in United Nation's General Assembly (UNGA).
UNP MPs Hector Appuhamy and Dr. Kavinda Jayawardene welcomed the President statement at the UNGA media briefing last afternoon.
"What president told at the General Assembly is that Sri Lanka should be allowed to work independently without any interference. This is something that has to be done, and therefore, what President said was correct," MP Appuharmy said.
Dr. Jayawardene who responded to a question raised by the journalists whether the government is prepared to enhance the security of Former President Mahinda Rajapaksa as there has been a plot to kill him, said security of Mr. Rajapaksa should be enhanced if it is necessary. At the same time he said adequate security has been given to the former President. (Yohan Perera)