---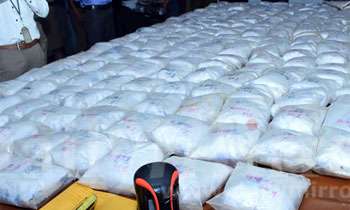 A mammoth heroin haul weighing 231.5 kilogrammes valued at more than Rs. 2,778 million--the second largest heroin detection ever made in Sri Lanka--was seized by the Police Narcotic Bureau (PNB) officials in the seas off Beruwala on Wednesday night.
Police Spokesman SP Ruwan Gunasekera said the heroin haul was seized when it was being trafficked into the country in a boat five nautical miles off Beruwala. Police have arrested two smugglers along with the haul.
He said 224 parcels of heroin were packed in 11 empty bags of sugar and suspects the illegal drug has been brought from Pakistan.
The spokesman said the STF, Navy, Coast Guard and the United Nations Office on Drugs and Crime (UNODC) had also assisted the PNB officials in carrying out the raid.
"The raid was conducted as a result of a weeks-long investigation. Disputes among several smugglers also helped the officials in conducting the raid successfully," SP Gunasekera said.
He said the suspects, 34-year-old Mohammed Risvi and 38-year-old Dilip Susantha from Beruwala detained for further questioning after produced before the Colombo Chief Magistrate.
SP Gunasekere said investigation are being carried out by the officials to identify and arrest if any other individual had involved in this heroin smuggling.
"This was the second largest heroin detection. The largest heroin haul of 261 kgs was recovered in Orugodawatta last year by the Customs and PNB officials,' he said.(Darshana Sanjeewa)
Video by Sanath Desmond