---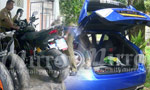 A popular motorcycle racing rider from Horana was arrested today on charges of assembling six motorcycles with enhanced engine capacities from parts he had imported having concealed them among other items, Police said.

The six motorcycles and an imported vehicle were taken into custody by the police.

They said the suspect along with several businessmen had imported motorcycle parts from Italy and assembled them here.

The vehicles valued at Rs.30 million were found at his residence in Horana. The suspect is to be produced in the Magistrate's Court. (Bimal Shaman Jayasinghe)
Video by Bimal Shaman Jayasinghe