---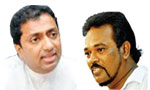 Education Minister Akila Viraj Kariyawasam has instructed ministry officials to conduct an investigation into the incident where Deputy Minister Palitha Thewarapperuma is alleged to have forced the Kalutara Vidyalaya Principal to enroll a child to Grade-one.
The deputy minister had reportedly accompanied a child and his mother to the Kalutara Vidyalaya on Monday and is alleged to have forced the principal to enroll the child.
The principal informed the minister that he could not enroll the child as he was not in the admission list. However, the child was later enrolled to the school despite the principal's decision.
Meanwhile, the All Ceylon Teachers' Union (ACTU) Secretary Joseph Stalin condemned the political influence exerted by the deputy minister to have the child enrolled.
"It sets a bad example when the politician does not take proper steps in such a situation but tries to have the child forcibly admitted to school. This is an issue faced by many children in the country. We condemn the method adopted by the deputy minister," he said.
"The circular on admission to grade-one is what needs to be amended," Mr. Stalin said.(Darshana Sanjeewa)