---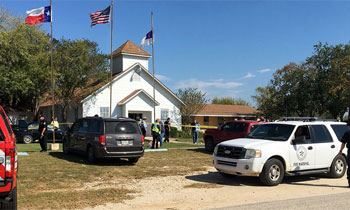 A gunman dressed in black tactical gear massacred at least 26 worshipers and wounded 20 others at a white-steepled church in Texas on Sunday, carrying out the latest in a series of mass shootings that have plagued the United States.
The lone suspect, also wearing a ballistic vest and carrying a Ruger assault rifle, fired into the First Baptist Church in Sutherland Springs and kept shooting after he went inside. Sutherland Springs is in Wilson County, about 40 miles (65 km) east of San Antonio.
The victims ranged in age from 5 to 72 years old, law enforcement officials told a news conference. Among the dead was the 14-year-old daughter of Pastor Frank Pomeroy, the family told several television stations.
After the shooting, the gunman, described as a white man in his 20s, was fired on by a local resident with a rifle. The suspect dropped his assault weapon, and fled in his vehicle, said Freeman Martin, regional director of the Texas Department of Public Safety.
Soon afterward, the suspect crashed his vehicle near the border of neighboring Guadalupe County and was found dead inside with a cache of weapons.
It was not immediately clear if the suspect killed himself or was hit when the resident fired at him outside the church, authorities said.
"We are dealing with the largest mass shooting in our state's history," Texas Governor Greg Abbott said at the news conference. "The tragedy of course is worsened by the fact that it occurred in a church, a place of worship where these people were innocently gunned down."
The suspect's identity was not disclosed by authorities, but law enforcement officials who asked not to be named said he was Devin Patrick Kelley, described as a white, 26-year-old man, the New York Times and other media reported.
"We don't think he had any connection to this church," Wilson County Sheriff Joe Tackitt told CNN. "We have no motive."
This act of evil occurred as the victims and their families were in their place of sacred worship," the president said. "Through the tears and through the sadness we stand strong, oh so strong."
According to the witnesses, about 20 shots rang out at 11:30 a.m. (1730 GMT) during the church services, according to media reports. It was unclear how many worshipers were inside at the time.
Connally Memorial Medical Center in Floresville received eight patients, the hospital said in a statement, while Brooke Army Medical Center at Fort Sam Houston received another eight.
At Connally, three people were treated and released, one is in critical condition and four were transferred to the University Hospital in San Antonio for a higher level of care.(Reuters)