---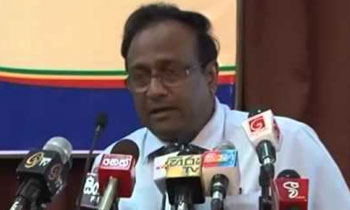 Rear Admiral Sarath Weerasekera has told the UN Human Rights Council in Geneva that the Tamils were discriminated by the Vellalas and not by the Sinhalese.
In his speech on 'racial discrimination' he said the majority Sinhalese are charged with discriminating the Tamil minorities but in fact it was a section of the Tamils who discriminated another section of the Tamils.
"The high caste Vellalas kept away the low caste Tamils from Temples, schools, and Kovils. They did not share a drop of water with the low caste. In 1968, one C Sundaralingam went as far as the Privy council to defend Vellala supremacy denying low caste people from entering a Hindu kovil. Ponnambalam Ramanathan went to London to urge the colonial masters to legalise the caste system in Jaffna. In 1951, when Sinhala leaders brought social disabilities act to protect the rights of the low caste Tamils the Vellala Tamils travelled to Britain to demand the British government to annul the Act," he said.
Mr. Weerasekera said Vellalas could maintain their supremacy only if they could pose as saviours of the Tamils.
"So it were the vellalas who manufactured anti-Sinhala Buddhist venom in the name of protecting the Tamils. If the majority Sinhalese were that bad how did the Tamil-speaking Muslims and more than 50% of the Tamil population peacefully co-exist with the majority? Northern Province Chief Minister C.V. Wigneshwaran, after living among the Sinhalese for 65 years, ending up as a Supreme court judge, has the audacity to say Sinhalese have no right to live in the North. He generates hate against Sinhalese but yet when the Northern hospitals run short of blood, Sinhalese soldiers are the ones who give blood to the Tamils because Wigneshwaran and his fellow Vellalas do not like their blood mixed with that of the low caste people. It is high time the Tamils in Sri Lanka woke up to this truth," he said.