---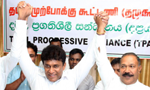 The Tamil Progressive Alliance (TPA), a political party representing Tamils of the Indian origins, has proposed the setting up of a non-territorial council with legislative powers to fulfill the aspirations of the Tamil people living outside the North and the East.
Out of a population of 3.2 million Tamils some 1.6 million live outside these two provinces.
TPA Leader and National Co-existence Dialogue and Official Languages Minister Mano Ganesan said this was one of the proposals which a committee appointed by the TPA had wanted to be included when changing the Constitution.
"What we have proposed is that the non territorial council should include Tamil MPs, provincial councillors and Pradeshiya Sabha members," he said.
The experts committee appointed by the TPA to prepare constitutional proposals to meet the aspirations of especially the Lankan Tamils of recent Indian origins is expected to handover the proposals to Mr. Ganesean next week. Mr. Ganesan said these proposals will be presented to the constitutional assembly to be set up soon.
The committee had also proposed the compulsory allocation of one ministry in central, Western, Sabragamuwa, Uva and North-Western Provincial Councils for the Tamil community, setting up a second chamber other than Parliament, the devolution of wide powers within a unitary state and an affirmative action plan for all the marginalized under privileged segments of society including the plantation workers.
The draft proposals of TPA will be discussed and finalized at its working committee meeting.
The 16-member experts committee is chaired by social activist P. Muthulingam comprises Professors M. Sinnathamby, S. Sandiresekaram, M. Mookkiah and T. Danaraj, Dr. S. Chandrabose, Senior Lecturer S. Vijesandiran, Lecturers Gowri Palaniyappan, Umadevi, senior civil servant M. Vamadevan, socal activist Bala Gowtham, former deputy minister V. Puthrasigamany, Ramesh Nandakumar, entrepreneur Chandra Schafter, TPA general secretary Anton Lawrence and assistant secretary Shan Prabakaran.(Yohan Perera)