---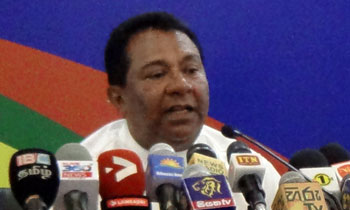 President Maithripala Sirisena and Prime Minister Ranil Wickremesinghe may take a decision on Foreign Minister Ravi Karunanayaka after he gives evidence before the Commission of Inquiry (CoI) on bond scam on August 2, Social Empowerment and Welfare Minister S.B.Dissanayaka said today.
Minister Dissanayaka admitted that certain information revealed during the CoI proceedings the other day involving Minister Karunanayaka were extremely damaging to the government and to minister Karunanayaka himself.
"We must not discuss this issue in public until next Wednesday (August 2) as Minister Karunanayaka has given an undertaking that he would appear before the CoI to give his side of story and answer any questions. Let's wait until then. However, I believe President Sirisena and Prime Minister Wickremesinghe will take a decision on him after he appears before the CoI," Minister Dissanayaka said in response to a question raised by a journalist at yesterday's weekly SLFP news briefing at the party office.