---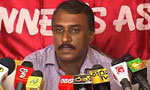 Lanka Private Bus Owners' Association President Gemunu Wijeratne today charged that the public transportation was still under the administration of the Sri Lanka Freedom Party (SLFP) except in the North.
"This is the utmost truth which prevails in the country. No United National Party (UNP) member or this government controls the transportation system in the country. The Transport Minister is from the SLFP and all the Provincial Councils except the North are still controlled under a SLFP Government. This will be a big problem to move this Government forward," he said.
The decisions taken by the Central government could not be put into practice due to SLFPers in the government. Because of that all the bus services in the country will come to a standstill, Wijerathne said.
"We had discussed several issues with the President including providing solutions to the heavy traffic situation and collecting bribes from the private buses. No favorable solution by this government has been forwarded. Law enforcement to the transport sectors were implemented but there isn't any progress to the private bus industry as discussed."
Any minister can decide the amount of fine imposed on road offenses but it should be implemented according to the constitution. (Chaturanga Pradeep)