---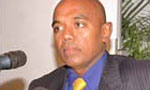 Former Megapolis and Western Development Ministry Consultant Vidya Amarapala said today that the Panama Papers exposure was a private matter and that certain people were trying to politicise it.
Mr. Amarapala said he stepped down from the Ministry position, when a print media revealed a list of names as Panama Papers exposure in April 06, 2016, which was later found out not to be true.
"I gave a statement to the FCID on May 03 with regard to the matter and gave all the details and documents I had," he said.
Mr. Amarapala told a news conference at JHU head office that in a list named as a Panama List released on April 9 midnight in a website had a link to a related list called Offshore Leaks, which was released in 2013 in which his name had been mentioned, providing a ground for mudslinging.
"I had given an explanation to the media on July 14, 2013 regarding the allegation. I resigned as the Director of the Sovereign Capital Corporation, which I had been connected with, in the list. I worked there only as a director and I did not engage in any commercial transaction or entitled to any profit," he said.
Mr. Amarapala, rejecting the allegations that he had defrauded the money of the Ceylon Electricity Board (CEB) as its Chairman, said he made the CEB a profitable venture during his tenure and it was those who wanted to defraud the money was making such allegations.
"It was originally estimated that the CEB would incur Rs.40 billion loss by end 2010. But as the Chairman I managed to turn it into a profit of Rs. 5 billion at the end of the year. I left the CEB, when there was a positive balance in the accounts," he said.
Mr. Amarapala said JVP leader Anura Kumara Dissanayake and National Freedom Front (NFF) Spokesman Mohammed Muzammil had levelled false allegations against him and asked them to correct them within 24 hours and if not corrected, legal action would be taken against them. (Ajith Siriwardana)