---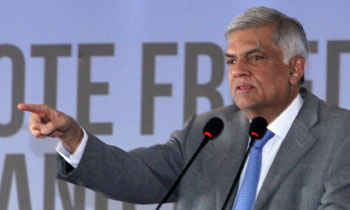 Highlighting the poor turnout of heads of Sri Lankan media organizations at today's UNESCO Regional Conference to End Impunity of Crimes against Journalists in Colombo, Prime Minister Ranil Wickremesinghe questioned whether the media organizations are really interested in media rights.
The event inaugurated by the Premier was held parallel to the 2017 International Day to End Impunity of Crimes against Journalists with a theme of "Reinforcing regional cooperation to promote freedom of expression and the rule of law in Asia through ending impunity for crimes against Journalists".
The event was organised by the UNESCO and the Ministry of Finance and Mass Media.
"Now when you look at this audience, in a country where there have been impunity for crimes against journalists, where you expect a high attendance of all heads of media organizations, there are only two heads of organizations here. They are the people who should be fighting and saying there should be no impunity for crimes against journalists. They should be attacking us and saying we are not looking into the cases and have not prosecuted the offenders. Why aren't they here today? Why only politicians and civil society are here? It is because some of them did not stand up or fight for the rights of journalists," Wickremesinghe said.
He further added that some heads of media organizations who didn't attend the event yesterday were more interested in keeping the Rajapaksa regime going and even today they would do anything to topple the current government with the purpose of bringing the Rajapaksa regime back, ensuring they make profits.
He claimed that Sri Lanka was a peculiar country where the government has ensured to end impunity for crimes against journalists, while the editors and owners of media organizations want the Rajapaksa regime back so that there will be impunity for crimes against journalists.
Meanwhile, the Premier said no one questioned him on what happened with the murder of the Former Sunday Leader Editor Lasantha Wickremetunga.
"This is the truth. We are making an effort to protect journalists. Do the heads of media organizations make such effort? Previously they used to do business with the blessings of Rajapaksa regime. Now they attack me because we have ensured freedom of expression and democracy. It is apparent that they are fed up with democracy and they want their old business back on track," he said.
He vowed to end impunity for crimes against journalists and expedite investigations into the killings and disappearances of journalists.
"Crime against the media is a crime against democracy. As a promise to the media, we will investigate and bring to justice those who have ended the lives of our journalists. I would like to send a very clear message that this government will protect journalists by all measures and I hope this commitment is sufficient to get the heads of media organizations and editors bring all together with us to carry on a fight for the rights of journalists," he said.
Recalling that many journalists were attacked, murdered, and harassed during the previous regime, he said after the establishment of the current government, there is no place for such crimes in today's democracy.
"I am proud to say that we have achieved great global recognition for the steps we have taken in only two years. We will continue to strengthen the democracy in Sri Lanka and we will ensure the UN Plan of Actions on Safety smooth implementation," he added. (Piyumi Fonseka)