---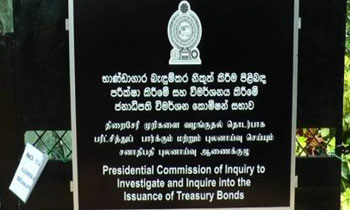 Responding to the request made by Perpetual Treasuries Ltd. Lawyer, the Presidential Commission of Inquiry yesterday said that it would continue with the proceedings of the inquiry without having a vacation during the month of August.
President's Counsel Nihal Fernando yesterday told the Commission that PTL's evidence would start from next Tuesday (August 8) and it would last for the entire next week.
Therefore, he asked the Commission to provide a short period of a vacation before the cross examination of his evidence began.
However, Commissioner Justice K.T. Chithrasiri said that he was supposed to travel to Nepal as a trainer for a training programme for Judges but had to cancel it since concluding the inquiry was more important at the moment.
Commissioner, Justice Prasanna Jayawardena also said that they were concerned about finishing the proceedings as soon as possible because they had to get back to the Supreme Court as well.
Thereby, the Commission ascertained that it would not take any break this time and would continue to hear the proceedings. (Shehan Chamika Silva)