---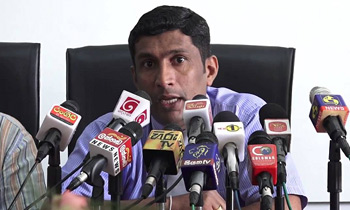 The Government Medical Officers' Association (GMOA) today said that their battle against the South Asian Institute of Technology and Medicine (SAITM) could arise in a way that the government had never imagined.
GMOA Assistant Secretary Dr. Naveen de Soyza told a news conference that this battle would only ended up in victory and added that discussions were still underway with regard to the SAITM controversy.
"A little silence of us cannot be regarded as that we have taken a step back from this battle. This battle will continue further. The strength of this battle will not always depend on strikes and protests," he said.
He also said that the GMOA has engaged in this battle in order to safeguard the standards of the medical education in the country and added that they do not proceed with any political motive.
Meanwhile, commenting on the legal actions taken against the university student activists, Dr. Soyza said that the law of the country should not be biased towards any party.
He said that everyone should be equal before the eyes of the law and added that the Attorney General's Department had sabotaged several proceedings with regard to the cases against university students.
"We will not go against the law of the country by any means. But we will intervene to the suppression of these university students through our legal professionals," he said. (Kalathma Jayawardhane)
Video by Buddhi