---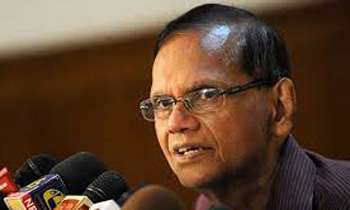 The Sri Lanka Podujana Peramuna (SLPP) said today that there was no alternative to the current crisis other than a General Election.
Addressing a press conference, its Chairman Prof. G.L. Peiris said that the country was in an unprecedented situation in which the Government was contemplating to boycott Parliament.
He said Speaker Karu Jayasuriya was partial.
"There are strong grounds for boycotting Parliament," he said.
He said even minority Governments used to receive majority representation in the committee of selection of Parliament, but the present Speaker had departed from it.
"The Committee of Selection appoints the Business Committee of Parliament commonly known as the Party Leaders' Meeting.
"That works out the agenda and all else. It is in the hands of the Leader of the House representing the Prime Minister. Today, the Leader of the House has no control because the Government is in minority at the Select Committee.
"The Speaker has assigned five members to us, five to the UNP and one each to the JVP and the TNA. That is completely wrong," he said.
He said neither the JVP nor the TNA was entitled to seats in the Committee.
Referring to the attempt to move a No Confidence Motion on the cut off funds for the Prime Minister's Office, he said it was unlawful.
"Funds are allocated in the annual budget. It has already been passed. In any case, Finance Bills can be brought by the Government, not by the opposition. No party has 113 seats in Parliament. The Speaker gave his ruling on the Committee of Selection on the basis that the Opposition got 121 votes. You have to deduct 14 seats for the TNA and six seats for the JVP. Then, the UNP has only 101 seats. We have 103 seats," he said. (Kelum Bandara)
Video by RM