---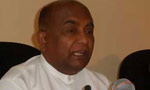 The joint opposition today rejected the allegation made by UPFA General Secretary and Minister Mahinda Amaraweera that five senior members of the JO had offered Prime Minister Ranil Wickremesinghe their support to form a separate government.
SLFP Central Committee (CC) member and MP Mahinda Yapa Abeywardena, who is in the JO, said as far as he knew none of their MPs had met the Premier asking for portfolios or offered their support to form a government.
"These are mere statements which are of no value. Some seven or eight months ago, they said five to six MPs in the JO will join the government. Did anyone join? No. Similarly, now they are accusing our MPs of offering their support to the Premier to form a government," he said.
Minister Amaraweera on Thursday said five senior members of the JO, who were close to former president Mahinda Rajapaksa, had requested the Prime Minister to end ties with the SLFP, asked for ministerial portfolios and offered to support to form a separate government. (Lahiru Pothmulla)