---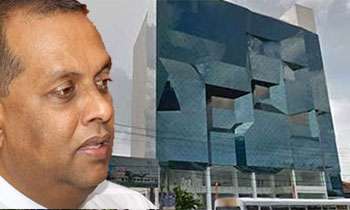 New Agriculture Minister Mahinda Amaraweera said he would do his utmost to move the Agriculture Ministry to its original place, the state owned 'Govijana Mandiraya' from the current location of the costly and luxurious D.P.A.Jayasinghe building in Battaramulla.
He said he did not believe the Ministry of Agriculture, that deals closely with farmers who toil day and day out to feed the country and their problems would need a highly luxurious and huge building paying a colossal amount of money as rent.
Assuming duties in his newly given portfolio today at the Agriculture Ministry at the controversial D.P.A.Jayasinghe building, Minister Amaraweera said he would appoint a Committee of 'Officials' to look into the possibility of re-establishing the Agriculture Ministry at 'Govijana Madiraya' as early as possible.
The Agriculture Ministry has paid Rs. 826,408,400 as two year's rent by December 2017 to the building and not acquiring it even by then.(Sandun Jayasekara)