---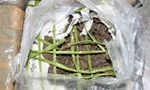 The Navy yesterday seized 134 kg of Kerala Cannabis and arrested five suspects along with the consignments in two separate raids in Kankasanthure and Kayts.
Naval personnel of Special Boat Squadron in Kankesanthure Naval Command arrested three persons who were transporting 101 kg of Kerala Cannabis at Manalkadu.
Meanwhile another two persons along with 33 kg of Kerala Cannabis were taken into custody at Iyakachchi, Kayts.
Navy said the arrested suspects and the haul of cannabis were handed over to the Jaffna Excise Department for further action.