---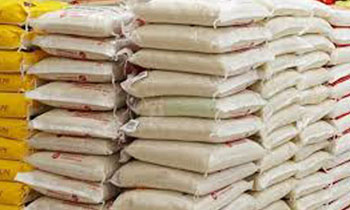 A ceremony to donate 300 tonnes of rice to Sri Lanka's flood victims was held by the government and the Myanmar Rice Federation (MRF) on 24 February at Pinlekoethwe rice mill in Dagon Seikkan Indistrial Zone, the Global New Light of Myanmar reported today.
Dr Than Myint, Union Minister for the Commerce Ministry, and other officials, along
with Mr. K.W.N.D Karunaratne, Sri Lanka's Ambassador to Myanmar, and officials from the MRF attended the event.
The donation is a humanitarian aid for victims of the flood and landslide in May 2017, which killed more than 200 people and rendered 600,000 homeless.
The MRF donated some 300 tonnes of rice with an estimated value of more than US$150,000, while the government will pay the cost of shipment charges to Sri Lanka from the Yangon port.
"Sri Lanka and Myanmar are engaged in cultural and religious cooperation. Sri Lanka
buys rice and other agricultural products from Myanmar, and so, they are our trading clients. Therefore, we would like to express our concern to our trading partner with our contribution," said U Ye Min Aung, general secretary of MRF.
The low quality rice (15 per cent broken rice of the Ae-Ma-Hta variety) will be purified. The shipment started yesterday, and is slated to reach Sri Lanka's port in early March.
Myanmar donors will offer more donations in Sri Lanka in mid-March. Dr Than Myint said that Sri Lanka and Myanmar were engaged in economic, social and cultural exchanges during the old days.
There is business- to-business cooperation, besides a government-to-government agreement. Bilateral trade with Sri Lanka reached $36 million, and the volume will grow each year, he added. Sri Lanka's ambassador noted that the country imported rice from Myanmar, Thailand and India owing to a shortage of rice due to floods in the rainy season.
"I would like to express our appreciation, on behalf of the Sri Lankan people, for the humanitarian aid supported by Myanmar's government and the MRF. We will make sure the contributions go directly and effectively to the flood victims.
Earlier, Myanmar and Sri Lanka had a series of discussions for rice exports under the
government-to-government system. Sri Lanka has now allowed importers to import the goods with zero tax, and so, the plan turned out to be a business- to-business plan.